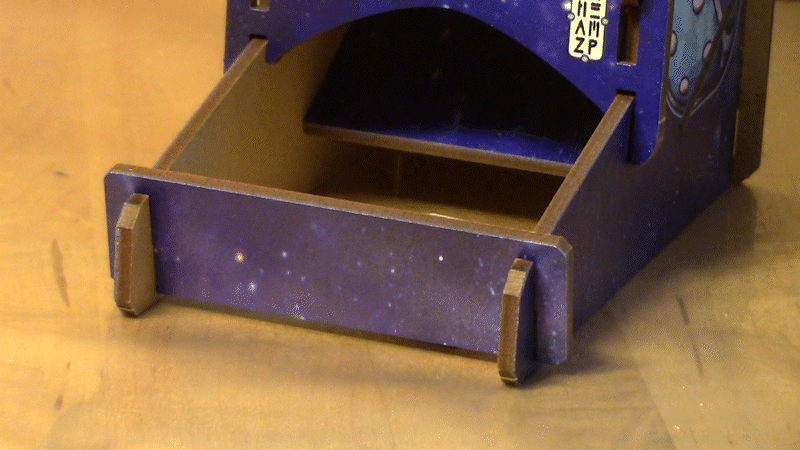 Getting Started
1) Check out Blue Panther's four page guide for how our process works, game prototypes, distribution, and legal documentation (under rows 1-4).
2) Download templates for game components in 1/2", 3/4", 5/8", or 9/16" inch formats (row 5). Box templates are also available (row 6).
Downloadable PDF files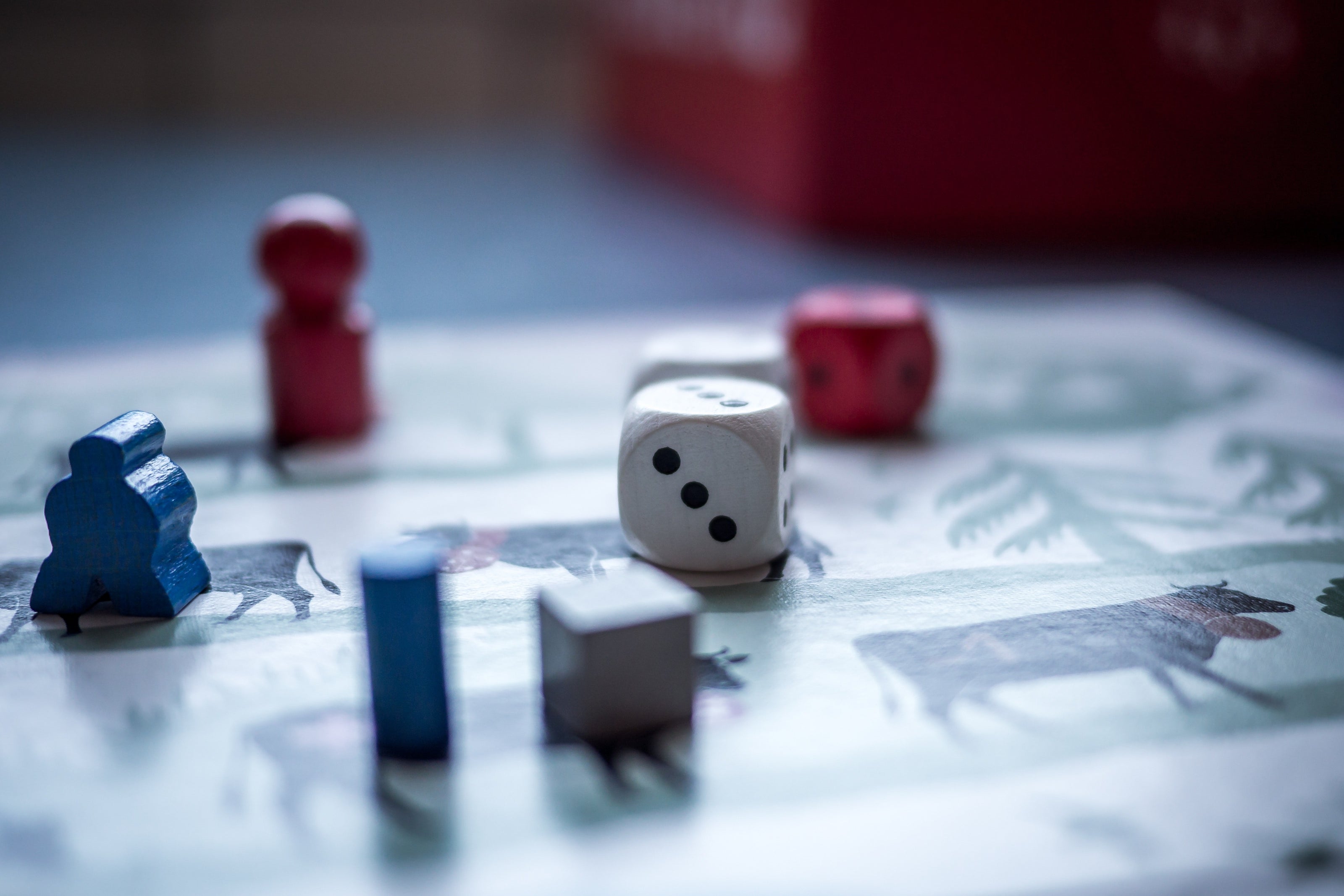 1. Welcome to Blue Panther

WELCOME TO BLUE PANTHER

Headquartered in Tennessee, USA, Blue Panther maintains a printing facility that includes a digital press, several UV printers, wide media printers, laser cutters and engravers, automated paper cutting and various supporting equipment. As a result, Blue Panther can print most, if not all the components that go into your average tabletop board game.

Blue Panther makes game components, prototypes, and complete products. The company offers fulfillment services using a print-on-demand model.  This means that you do not have to deal with the traditional issues of limited inventory, insufficient storage, or slow shipping.

Blue Panther offers the following tiers of service:

Single transaction – where you will engage us on a project-by-project basis for games or components
Client – where you accept orders and payments and represent your brand to the public and wholesalers, then Blue Panther will make and ship at your direction
Full-service client – where you license your games to Blue Panther, we accept orders and payments and we will make and ship based on your direction and to orders received directly on our website or from wholesalers / retailers
Custom Work -- Blue Panther offers custom work in addition to standard components.

In all cases, you maintain full control of your intellectual property. You grant Blue Panther a license to make copies of your game and send them to where you direct.

How does Print-On-Demand work?

Blue Panther maintains raw materials inventory of common game components such as boxes, paper, chipboard, plastic dice, and other common items. We maintain a small number of finished games so orders can be filled quickly. In general, the games are built once they are ordered.  By using flexible equipment, standard templates and standard components, a large range of games can be made quickly and efficiently.
2. Getting Your Project Made

HOW TO GET YOUR GAME PROJECT MADE BY BLUE PANTHER

To give you an accurate price, we need certain types of information, a list of components with sizes, quantities, and type of preferred materials for the components. For example:

What is the size of the box?
Dimensions of the game board?
Playing cards? How many? What size?
Rulebook? How many pages?
Player Aids? What size? How Many Pages?
Dice? How many? What size?
Countersheet? Size, how many counters?

Custom components – size and shape of each?

 

HOW CAN I BE EFFICIENT ON PRICING?

Blue Panther offers many standard component sizes (please request our price list via the Contact Form link here).  If your design can fit into these templates, that will generally get you the lowest possible price.  See the Design Template page for guidance on rulebooks, standard map and counter sheet sizes.

 

WHAT IMPACTS THE SPEED AND COST OF GETTING MY GAME PRINTED?

The faster you get your artwork to us in the templates, the faster your game will print.  The more closely your artwork follows our guidelines, the cheaper it will be to produce.  If we can use your files as is when received there are no setup charges.

Blue Panther can do limited editing of your files to make sure they fit our standards, but there is an hourly charge for this.  If you don't like your artwork, there are a few artists we can recommend.

We HIGHLY RECOMMEND getting a prototype made for your game before ordering larger quantities. Yes, it costs more money up front, but a prototype is cheaper than paying us to re-make 200 counter sheets because someone found a mistake after it started shipping. For larger orders like crowdfunding projects, the cost of the prototype can be applied as a credit towards your production order.
3. How to Do Business With Us

HOW DO WE DO BUSINESS?

Blue Panther LLC is a focused on elevating small board game companies to new heights. If you or your company aim to expand your gaming empire, we would be happy to help you.

For individual projects or custom services (such as UV printing), terms and conditions apply for each transaction. To begin this partnership, you send us the project, we quote you a price. If you accept the offer, then we send you an invoice. You send compensation to Blue Panther, then your project is completed and sent to wherever you specify.

For clients and full-service clients, our business arrangements are subject to an operating agreement that covers areas including:

Monthly invoicing and payment
Shipping practices
Representing your brand to the trade (e.g., wholesale and retailer orders and terms)
Collection of taxes and fees based on point of MFG (manufacturing) and point of sale
Fulfillment services and its applicable fees
Standard business practices
Representing and selling your games at conventions and online
Standards for communication
Termination of the operating agreement
Blue Panther's finished game inventory policy
Transfer, storage, and retention of client and customer information required to complete orders
Standard and custom component definitions, pricing, and practices
Terms offered to the trade – wholesale / retailer discounts on MSRP, shipping etc
Intellectual Property policies
Ongoing global supply shortages and how we respond*

 *PLUS whatever else our lawyers tell us to put in there.
4. File Printing Standards

FILE PRINTING STANDARDS

In general, Blue Panther prefers PDF files of at least 600 DPI print quality.

For bigger files (100 MB or larger), to preserve the artwork, convert your files to "flattened" or "bitmapped" PDFs.

We also accept the following FILE FORMATS:

PNG, JPEG, and TIFF
.cdr (Corel Draw format) *
.ai (Adobe Illustrator format) *

*Depending on the complexity of the file, these examples may incur additional setup charges.

Blue Panther provides templates for boxes and counter sheets.   Also, if you have a custom counter sheet that does not match one of our existing standards, we can supply a template of it to you for no additional charge.

The Client or Blue Panther will provide a suitable file transfer tool (e.g., Dropbox, Basecamp) to facilitate easier access to all files required for jobs.

The Client is responsible for revision level control on all documents. Blue Panther only maintains the latest version of files to ensure we do not print obsolete versions of your game.

 

LIST OF TEMPLATES

Blue Panther uses Imperial units for measurements. If you are using Metric, please convert your files into inches.

General guidance on all sizes of counter sheets:

1/2 inch countersheet
9/16 inch countersheet
5/8 inch countersheet
3/4 inch countersheet
1 inch countersheet

General guidance on game box labels:

1 Inch Deep Wargame box template (11.25 x 8.75 x 1 inch)
2 inch Deep Wargame box template (11.25 x 8.75 x 2 inch)
1.75 Inch Deep Game box template (9 x 6 x 1.75 inch)
5. Templates for Box & Counter Sheet Prints

COUNTER SHEET TEMPLATES

For designers who use counter sheets, the following images provide an easy way to formatting one's assets. These files are available to download via our Google Drive folder. Select your size, save it on your device, and overlay your game art onto the template.

All templates are based on Imperial units. Metric units are allowed, but are generally not recommended.

Supported CS Templates:

1/2 (0.5) inch countersheet
9/16 (0.5625) inch countersheet
5/8 (0.625) inch countersheet
3/4 (0.75) inch countersheet
1 inch countersheet
5a. Counter Sheet PDF Download
5b. Counter Sheet PDF Preview

1/2" Inch CounterSheet (template + instructions):

5/8" Inch CounterSheet (template + instructions):

3/4" Inch CounterSheet (template + instructions):

9/16" Inch CounterSheet (template + instructions):
6. Box Label PDF Download
6a. Box Label PDF Preview

1" Inch Box Label (front and back):

2" Inch Box Label (currently not available):

9x6x1" Inch Box Label (front and back):